Tractorless Arena Drag for small equestrian facilities.  
Finally,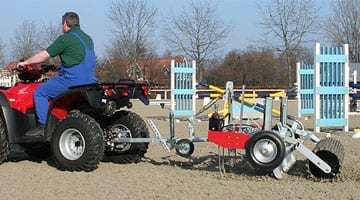 a precision, quality arena drag that doesn't need a tractor to pull it!   Enter the new Platz-Max Roll Footing drag for small Equestrian facilities.  
The Roll
makes it easy and fun to maintain a beautiful riding arena.   Use your Gator, ATV, CAR or even a mule!!     And, 
The Roll
comes with all the same features as tractor models, including  Hydraulics to change of depth – with the press of a button.  Like with all the Platz-Max models, no shifting of arena footings in the turns and corners is guaranteed.
 Hooking up the arena drag to the gator is absolutely effortless – Hydraulic change of depth with the press of a
button or with the handpump assures perfect dragging  and leveling of the arena footing.
 The coil tines are arranged in two staggered rows. They fill in hoof imprints and blend sand additives, e.g. rubber footing, geo-textile footings and fibar footings.
 The
swinging leveling blade
is located behind the tines which evens out any uneven ground surface. The lattice roller blends and slightly presses the footing into perfect compaction.
 Platz-Max Arena Drags
Platz-Max arena drags stand alone when it comes to how many Olympic and World Cup Events and competitors alike trust the precision-made arena equipment.
Platz-Max arena drags have prepared riding surfaces for the World's Champions over decades. German engineering is combined with craftsmanship to achieve high-performance arena drags.
Choose among the most versatile models for your riding discipline to protect your investment in horse arena footing.
Call Footing Solutions USA  for more info – 1-800-532-0131   info@footingsolutionsusa.com